MVR Driving History
Companies that employ delivery drivers and long-haul truckers should run the mvr reports listed below to make sure that their drivers are "model" citizens, have good driving records and are properly licensed. Companies can spending thousands of dollars in court costs and attorney fees if their drivers are involved in accidents and they were not properly licensed or had prior negative driving records.
Why run an MVR Search? In some states, convictions for driving under the influence of alcohol or drugs cannot be found on the criminal court record and can only be revealed with a MVR examination.
MVR State Driving History Report
IDENTIFY HIGH RISK DRIVERS IN ALL 50 STATES
Companies with employees that operate a motor vehicle for business purposes can reduce risk and keep operating costs low by using Motor Vehicle Records when screening prospective employees. By identifying high risk drivers, Motor Vehicle Records can help your company improve safety and reduce liability and insurance expenses. In addition to employment screening, industries can use these records for underwriting and rating of personal and commercial automobile insurance.
MVR Business Search Fee: $12.95 - $39.95 depending on the State - Click for Pricing
Search Requirements are Name, State and Drivers License Number. Includes CDL and Driving History.

NOTICE: No refunds for driving records will be granted if the information you have submitted comes back as incorrect, invalid, in error or as No Records Found. In addition No Refunds will be granted under any circumstance since these reports are instant.
Drivers License Number is REQUIRED to order an MVR.
Our System provides instant (48 of 50 states), online access to your driving records from your local Department of Motor Vehicles (DMV).
The State DMV mandates what is reported on the driving records.
NOTICE: This is NOT a certified copy of the driving record and is NOT for a Defensive Driving Course required by the courts.
CDL Nationwide Verification Report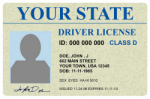 CDLIS allows employers and their agents to comply with FMCSA requirements by searching within the Commercial Drivers License Information System for any prior licenses, current CDL and up to three prior licenses held by said individual.
Anyone who has had to screen for any sort of driving position knows that some drivers tend to have, lets say, fuzzy memories. When people are not truthful to their insurance agent, it usually results in a rate increase or maybe a cancelled policy. With commercial drivers, the consequences of hidden violations from a speeding ticket or accident up to an undisclosed CDL -- can be disastrous to an employer. Among other things, the Commercial Motor Vehicle Safety Act of 1986 made it illegal to hold more than one commercial license, and states are required to adopt testing and licensing standards. Search Fee: $14.95 (This search does NOT include driving history)
Provides user with:
Present Jurisdictional State and Drivers License Number

Name and DOB

Up to Three Previously held CDL Numbers

AKA Information

SSN Match